Order Guarantee

Valid & Authentic Tickets

Delivery in time

Cheap & Competitive

Secure & Safe Transaction

Customer care team
Why Jose Mourinho Was the Best Manager for Manchester United
Posted 1964 days ago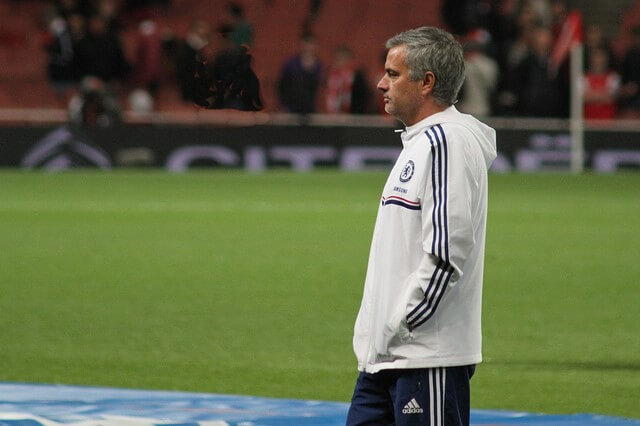 By Will Pitts
There are few managers as notorious as Jose Mourinho. Disputes with players, officials and other managers have been rife throughout his career, from Italian Football Federation fines to French "specialists in failure". Controversy has never been far from The Special One's door.
From blacklisting the Italian media for three months during his time at Inter to poking then-Barcelona manager Tito Vilanova in the eye on the touchline as Real Madrid manager, Mourinho proved himself a press officer's nightmare time and time again during his spells in Europe.
The 53 year old has been guilty of criticising officials repeatedly, even suggesting that there was a "campaign" against his team organised by "the media, commentators and other managers" to influence referees during his second tenure at Chelsea. He racked up £141,000 in fines in his two and a half year second stint at Chelsea alone.
So, with all of his controversies, with the fines and touchline disputes, why was hiring Jose Mourinho such a priority for Manchester United?
United is, without a doubt, one of the biggest clubs in the world. The spotlight of international sports media is forever shining on Old Trafford, illuminating every little discrepancy and problem at the club. The pressure that can create on teams, on players, is unbelievable.
Michael Johnson was touted as the next big English star as he came through Manchester City's academy, and many regarded him as a generational talent. Personal struggles with mental health were exacerbated by the pressure to become the player everyone thought he could be, and he collapsed under the weight of expectation. Johnson failed to make a single appearance for the club in his last three seasons, but went on to have a successful career after football.
Mourinho's controversies often came in times of crisis for his club. As performances dropped for his Inter side in 2010, Mourinho began his three month media blackout. The speculation and audacity of it pulled the attention of the media away from Inter's struggling performances, reducing the pressure on his squad. At Chelsea, his accusations of a campaign against the club attracted so much attention from the nation's media that the team's faltering form was almost ignored. His controversial actions often prove to divert criticism from his team's performances, sparing his players the extra pressure of media criticism.
Having led a collection teams to success across Europe, Jose Mourinho is revered by players worldwide. "That guy says whatever he wants, I like him. He's the leader of his army, but he cares, too. He would text me all the time at Inter, wondering how I was doing." said new United signing Zlatan Ibrahimovic, who played under Mourinho during his spell at Inter. "Mourinho would become a guy I was basically willing to die for."
That reverence creates a desire to work under someone, and players see Mourinho as a manager who can develop them further with his outlook on football. Wayne Rooney, club captain and talisman, said "I'm really excited to be working with Jose this season as he's one of the best managers in the world."
As a result, the pool of players who want to play for United will expand considerably. They were already a prestigious club with more than adequate financial resources, but the opportunity to play and learn under Mourinho will be an attractive proposition for the world's top footballing talent. United struggled following the Ferguson era, and it could be argued that Angel Di Maria was the only truly world class player that United signed over Moyes' and van Gaal's tenures. For a team expecting to compete at the top of the game, it simply wasn't enough. United fans will be reassured by the pulling power their new manager has.
Luis van Gaal's tenure created culpable unrest amongst United fans. His conservative, possession based tactics were often seen as negative and dull by the supporters and the media alike. In the 2015/16 season, van Gaal's last in charge, his team scored 63 in all competitions. In comparison, rivals Manchester city netted 115 times, despite playing a similar amount of games.
Van Gaal's United also only managed 11.3 shots per Premier League game, less than a Sunderland team that only narrowly avoided relegation.
The arrival of Mourinho will give hope to supporters who desperately wanted more entertaining football. In the first season of his most recent spell at Chelsea, his team scored 100 goals in all competitions, yet still kept 29 clean sheets. While Mourinho isn't known for a setting up his teams in a gung-ho, all out attacking style, his arrival promises considerably more dynamic football that the van Gaal era.
The Portuguese is renowned for his game management. While favouring three midfielder-systems, Mourinho has been known to have one of the best minds for adaptive tactics in the modern game. His tactics continually shift, attempting to create space and opportunities for key players to thrive. This is especially important in the Premier League due to the physicality and intensity of the game. Freeing up key creators like Henrikh Mkhitaryan and Juan Mata will allow United's already strong strike force to score more frequently.
His attention to detail must also be noted. Mourinho is known to work on individual formations depending on which players are on the pitch at the time, rather than forcing individuals into roles that they might not necessarily excel at.
Mourinho has faced criticism for his tactics in the past. One of football's greatest ever players and managers, Johan Cruyff, said "José Mourinho is a negative coach. He only cares about the result and doesn't care much for good football." Playing reactively and adapting to circumstance can also be seen as negative football, but truthfully, people don't see a web of intricate passes, of inch perfect crosses, of sublime finishes and innovative movement when they see their team at the top of the league. They see points, and at the end of the season, points win titles.
There are concerns amongst die-hard fans that Mourinho's appointment might lead to the death of the "United way". The club has a long history of promoting academy graduates and focusing on youth, and many are sceptical that Mourinho does not. His serial winning mentality carries with it a philosophy: If you're good enough, you play.
During his tenure at Porto between 2002 and 2004, Mourinho put his faith in Ricardo Carvalho, Deco, Maniche and Carlos Alberto, bringing them into the starting line-up. His side went on to win the Champions League and what is now the Europa League and in successive seasons.
Mourinho awarded first team debuts to six academy graduates during his first spell at Chelsea and a further five in his second. He was also credited with helping to develop Petr Cech, John Terry and Arjen Robben into the players they are today. Ruben Loftus-Cheek debuted in the Premier League under Mourinho, and is touted as one of the star midfielders for the future.
Alvaro Morata won endless plaudits for his performances at the Euros and Juventus in the 2015/16 season as another player that Mourinho handed his debut. He started another 19 academy graduates during his time at the Bernabeu.
In short, the stereotype that Mourinho has a poor history with youth players is unfounded. With the likes of Marcus Rashford and Timothy Fosu-Mensah impressing last season, United fans will be relieved to see that Jose's appointment will not be at the expense of the club's traditions.
Sir Alex Ferguson set the trend for Manchester United managers during his legendary time at the club. 26 years of faith in the Scotsman led to unparalleled success for United, and a large amount of supporters expect similar levels of commitment from future managers. Jose Mourinho is a far stretch from Sir Alex in that respect, already establishing himself a notorious journeyman in European football.
At previous clubs, Mourinho has enjoyed a couple of years of success before failing results or a breakdown in relationships with the club forces him from his position. Former Chelsea man Felipe Luiz criticised him for his relationships with some players, saying that public criticism can be damaging in the dressing room, which inevitably led to the so called "mutiny" at Stamford Bridge last year.
That being said, Mourinho has already stated his intention to stay with the club for an extended period of time. "I have always felt an affinity with Old Trafford" said the new boss in his opening press conference. "It has hosted some important memories for me in my career and I have always enjoyed a rapport with the United fans. I'm looking forward to being their manager and enjoying their magnificent support in the coming years."
Ed Woodward is already heavily backing him in the transfer window, and the lure of building a legacy at the club may lead the Special One to buck his habit of moving clubs and deliver for United in the coming years.
No matter the longevity of his tenure, Jose Mourinho is a spectacular appointment for Manchester United, and will undoubtedly be a successful one.
(Photo via Ronnie Macdonald)