Buy Augsburg Football Tickets Now!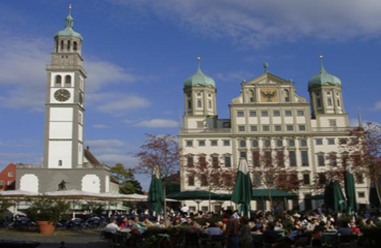 Football Tickets In Augsburg are Available!

Welcome to Football Ticket Net - your Ultimate source for all Football Tickets In Augsburg which includes superb premium and cheap tickets to all football matches in Augsburg.
Experience the magnificent atmosphere in these matches knowing you have bought football tickets in Augsburg at the cheapest price along with the best service you can get.


Join all the football fans in Augsburg together with local fans who consistently follow football matches in Augsburg for every match, worldwide fans which is their first experience watching a football match in Augsburg live in action and just common football fans all over the world which have already chosen Football Ticket Net as the most reliable and Worthwhile place to buy football tickets online for a match in Augsburg.


So why wait, select the football match in Augsburg you are interested in and book now your football tickets in Augsburg in a secure online purchase.
Now you can start your countdown for the great experience of watching a football match live. We wish you an enjoyable experience and hope to serve you again in the near future for some more football tickets in Augsburg.
Upcoming Augsburg Football Tickets For Sale!
Event
Venue

21/10/2017

Sat 14:30

vs

21/10/2017

Sat 14:30

WWK ARENA

Augsburg

,

Germany

View Tickets

04/11/2017

Sat 14:30

vs

04/11/2017

Sat 14:30

WWK ARENA

Augsburg

,

Germany

View Tickets

25/11/2017

Sat 14:30

vs

25/11/2017

Sat 14:30

WWK ARENA

Augsburg

,

Germany

View Tickets

09/12/2017

Sat 14:30

vs

09/12/2017

Sat 14:30

WWK ARENA

Augsburg

,

Germany

View Tickets

16/12/2017

Sat 14:30

vs

16/12/2017

Sat 14:30

WWK ARENA

Augsburg

,

Germany

View Tickets

13/01/2018

Sat 14:30

vs

13/01/2018

Sat 14:30

WWK ARENA

Augsburg

,

Germany

View Tickets

03/02/2018

Sat 14:30

vs

03/02/2018

Sat 14:30

WWK ARENA

Augsburg

,

Germany

View Tickets

17/02/2018

Sat 14:30

vs

17/02/2018

Sat 14:30

WWK ARENA

Augsburg

,

Germany

View Tickets

03/03/2018

Sat 14:30

vs

03/03/2018

Sat 14:30

WWK ARENA

Augsburg

,

Germany

View Tickets

17/03/2018

Sat 14:30

vs

17/03/2018

Sat 14:30

WWK ARENA

Augsburg

,

Germany

View Tickets

07/04/2018

Sat 14:30

vs

07/04/2018

Sat 14:30

WWK ARENA

Augsburg

,

Germany

View Tickets

21/04/2018

Sat 14:30

vs

21/04/2018

Sat 14:30

WWK ARENA

Augsburg

,

Germany

View Tickets

05/05/2018

Sat 14:30

vs

05/05/2018

Sat 14:30

WWK ARENA

Augsburg

,

Germany

View Tickets